Jordan Peterson Timeline
Jordan Peterson has risen to fame in a short three years. Here is an outline of the most significant moments which led to his sudden popularity. Of course, Peterson studied, taught, worked and wrote for 30 years before these events, preparing him for this moment.
Sept. 27, 2016 – Professor Against Political Correctness
This is the video that started it all. Professor Jordan B. Peterson of the University of Toronto couldn't sleep one night and instead of publishing a blog post about Canadian Bill C-16, he recorded his slides and thoughts to video and uploaded it to YouTube. He argued that the bill would compel certain speech and was a break from the values established by western civilization.
News Reports on Peterson's objection to Bill C16
Of course it is likely that nobody would have seen this video if certain Canadian news organizations hadn't picked it up. It was newsworthy because Peterson was a professor at the University of Toronto and he was taking a contrarian viewpoint within that culture.
Nov 4, 2016 – BBC News – Toronto professor Jordan Peterson takes on gender-neutral pronouns
Nov 28, 2016 – Joe Rogan Interview
Because of the controversy in Canada, podcaster Joe Rogan invited Peterson onto his show to explore the topics of free speech, gender pronouns and social justice warriors. What Rogan's large audience got was a well-spoken professor with fully-formed ideas who was able to comment on much more than just the controversial topics. This was a watershed moment for Peterson because it introduced him to millions of people in a very accessible way.
2016 Maps of Meaning Lectures – University of Toronto
Peterson summed up his life's study in a book he published in 1999 called Maps of Meaning. Few people read this very difficult text, and he continued teaching and his studies. However, Maps of Meaning became his most popular course at the University of Toronto and in 2013 he began publishing videos of the entire course to YouTube. When the C16 controversy blew up, many people who were interested in hearing more of what Peterson had to say discovered hundreds of videos of his lectures and interviews. This Maps of Meaning course, published in early 2016 before the controversy, was the first thing people found. Soon there were thousands of people who had listened to 40 hours of his lectures.
Nov 29, 2016 – Jonathan Pageau Interview
Peterson introduces us to Jonathan Pageau, a christian icon carver and artist who has spent the past few years making videos explaining symbolism. They discuss Postmodernism and art, among other things.
Jan 3, 2017 – Pepe the Frog and Jonathan Pageau
Peterson received criticism about his use of Pepe the Frog by many on the left who accused him of racism and used Pepe as proof. Here they explore the symbolism of Pepe the Frog, but we learn more about the wonderful insight of Pageau.
Mar 23 2017 – McMaster University Protest
Peterson was invited to McMaster University to discuss free speech on a panel with two others. The other panel members withdrew after protests but Peterson showed up. There were many protesters inside and Peterson still tried to talk, and stayed remarkably calm. Later, he went outside where he answered questions and spoke while protesters continued their yelling. "There's no reason to assume this is a bad thing. It's noisy, and it's annoying, but that's fine. You've got to follow what you believe to be true. Right? And don't worry about it. And then let things happen. And see what happens. Because it's perfectly possible that if you are trying to do the right thing and you are trying to speak properly then whatever happens around you is a partial consequence of that and it's a good thing."
2017 Maps of Meaning Lectures – University of Toronto
Peterson continued to lecture at the university, and he published a new version of Maps of Meaning which was of higher recording quality than the previous years.
May 9, 2017 – Joe Rogan Podcast – Maps of Meaning & Self-Authoring
Peterson appeared for the second time on Joe Rogan's podcast where they explored the McMaster University protests. More importantly, Peterson introduced the concepts behind Maps of Meaning and his self-improvement program at selfauthoring.com. It became apparent that Peterson was much more than just a free speech advocate.
Self-Authoring Suite
While this website had existed for some time, he re-worked and re-introduced it on the Rogan podcast. Not only did Peterson talk about meaning, but he provided a tool to help people to improve their lives.
May 20, 2017 – The Psychological Significance of the Biblical Stories: Genesis
Using the fame generated by his stance on compelled speech and Joe Rogan's podcasts, Peterson decided to rent a theater in Toronto and hold a series of 15 lectures. His topic was an analysis of the book of Genesis. These lectures sold out and the video of the first one has more views than any other video on his YouTube channel. It is classic Peterson, who riffs on these archetypal stories while discussing meaning, personality, neuroscience, history and art. Paul VanderKlay produced a very informative series of commentaries on these lectures.

Sept 1, 2017 – With Bret Weinstein on Joe Rogan
This conversation joined the controversies surrounding both Weinstein and Peterson. It also linked their studies and philosophies in an interesting discussion about evolution and meaning. This conversation occurred shortly after the Charlottesville protests and they spent time discussing that and how it relates to freedom of speech and evolutionary biology.
Nov 1, 2017 – 12 Rules for Life – An Antidote to Chaos
Peterson appeared live on The Rubin Report to discuss the particulars of his upcoming book. Peterson gives an interesting review of all 12 rules in a 3-hour discussion.
November 2017 – Lindsay Shepard & Laurier University
Graduate student Lindsay Shepard got into trouble at Laurier University when she used a video clip of Jordan Peterson in one of her classes and a student complained. She was disciplined by Laurier, but she recorded the disciplinary hearing and released it to the National Post. This caused a stir because it was an example of exactly the effects of limiting speech on campus that Peterson had been warning of with Bill C-16. Peterson had lots of commentary about this affair, and has even sued Laurier University.
Jan 16, 2018 – Interview with Cathy Newman on Channel 4
With his book, 12 Rules for Life, being released in a few days, Peterson did the media rounds in January and February of 2018. One of his first stops was at Channel 4 where he was ambushed by an argumentative interviewer, Cathy Newman. This video went viral partly because of the calmness with which Peterson answered Newman, and also because of the common sense answers he gave.
January 25, 2018 – 12 Rules for Life
A book based on questions on Quora questions he had answered over previous years was published. This book was written for a mass audience and included many of the lessons from Maps of Meaning intertwined with common-sense life advice. It immediately topped the best seller lists.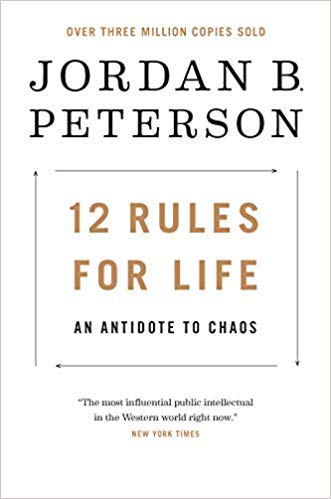 Feb 15, 2018 – Russell Brand Interview
In the months following the release of his book, Peterson was interviewed by dozens of YouTubers and podcasters. This conversation was significant because it meshed Peterson's search for meaning with Russell Brand's continual exploration.
Mar 11, 2018 – Queen's University Talk
With the recent release of his book and his rising visibility, he was greeted by loud demonstrators at Queen's University. The hall was filled on the inside with a respectful audience, but on the outside were a group of protesters who banged on doors and windows during much of his talk. The most chilling moment was when a young man stood and yelled from the balcony in protest.
April 3, 2018 – Paul VanderKlay interview
Christian Reformed church pastor Paul VanderKlay, who leads a small church in Sacramento, interviewed Jordan Peterson to discuss church, Peterson's biblical lectures and some behind the scenes thoughts Peterson had on christianity. This video furthered VanderKlay's influence and audience. Fortunately for Paul, he was able to interview him before Peterson's status rocket left the stratosphere. "Why is he changing the world in the way he is changing it?" "I hope you have some success in making sense out of all of this"
April 5, 2018 – Easter Message – The Death and Resurrection of Christ A Commentary in Five Parts
In a moving message released on Good Friday, Peterson explores the concept that Christ's death redeemed humanity. This video has been removed from YouTube, but you can find it at archive.org

May 8, 2018 – Intellectual Dark Web
The NY Times published Meet the Renegades of the Intellectual Dark Web by Bari Weiss which codified a term coined by Eric Weinstein. The Intellectual Dark Web includes a circle of influential YouTubers, podcasters, professors and writers. Jordan Peterson is one of the most prominent of these thinkers, but they seem to be mostly connected by their appearance on Joe Rogan's podcast as much as their ideas.
Summer 2018 – Debates with Sam Harris
In the fall of 2017 Peterson appeared on prominent atheist Sam Harris' very popular podcast. They spent most of that time arguing. However, they both sensed they had more to say to each other and perhaps a different format was needed to facilitate a conversation. So they scheduled four "debates" moderated by Bret Weinstein and Douglas Murray.
Vancouver One: Peterson, Harris, Weinstein
Vancouver Two: Peterson, Harris, Weinstein
Dublin: Peterson, Harris, Murray
London: Peterson, Harris, Murray
Paul VanderKlay had some very insightful commentary on these debates, and it prompted him to define his God #1 and God #2 theory.
April 19, 2019 – Zizek Debate
Peterson debated noted Marxist philosopher Slavoj Zizek in Toronto. It ended up not being much of a debate, but more of a conversation.
These are many of the most significant moments in Jordan Peterson's ascendance. If you feel there are others I should add, especially links to commentary and articles, please let me know!